Year
Photographer of the Year
Division 2 Photographer of the year
Jean Grant Print Trophy
(Colour Print 2010-)
The Reid Monochrome Print Trophy
Digital Image Trophy
Division 2 Colour Print Trophy
Division 2 Mono Print Trophy
Division 2 Digital Image Trophy
The Cathie Clark Colour Print of the Year
The Cathie Clark Mono Print of the Year
The Cathie Clark Digital Image of the Year
Jean Grant Slide Trophy - From 2019 Best Performance in External Comps
1991-95
Andy Hall
1996
Richard Connor
1997
Andy Hall
1998
Richard Connor
1999
Gordon Haggart
2000
Patricia Sinclair
Pat Copner
Patricia Sinclair
2001
Pat Copner
Pat Copner
Keith Fraser
2002
Pat Copner
Pat Copner
Cathy Clark
2003
Mark Woodfin
Pat Copner/Mark Woodfin
Mark Woodfin
2004
Pat Copner
Pat Copner
Mike Ogden
2005
Pat Copner
Pat Copner
Pat Copner
2006
Pat Copner
Pat Copner
Lynn Stout
2007
Allan Gawthorpe
Dave Morrow
Allan Gawthorpe
2008
Allan Gawthorpe
Allan Gawthorpe
Allan Sutherland
2009
Allan Gawthorpe
Allan Gawthorpe
Allan Sutherland
2010
Diana Johnson
Russell Adams
Allan Gawthorpe
Allan Gawthorpe
Allan Gawthorpe/Brian Doyle
Ian Forbes
2011
Allan Sutherland
Graham Shanks
Pat Copner/Mark Woodfin
Pat Copner
Diana Johnson
Allan Gawthorpe
2012
Brian Doyle/Iain Wood
Alison Smart
Stewart Caie
Pat Copner
Donald MacMillan
Neal Weston
2013
Brian Doyle
John McSevney
Iain Wood
Brian Doyle
Brian Doyle
Martin Sim
2014
Brian Doyle
Margo Wilson
Mark Woodfin
Brian Doyle
Neal Weston
John McSevney
Mark Woodfin
Neal Weston
Neal Weston
2015
Brian Doyle
Peter Walker
Brian Doyle
Brian Doyle
Neal Weston
Alan Belton
Alan Belton
Allan Gawthorpe
2016
Brian Doyle
June Gold
Brian Doyle
Brian Doyle/Mark Woodfin/Alan Belton
Neal Weston
Allan Gawthorpe
Brian Doyle
Graeme Griese
Allan Gawthorpe
2017
Brian Doyle
June Gold
-

2018
Brian Doyle
John Burns
Brian Doyle
Brian Doyle
Brian Doyle
Sarah Woodfin
John Burns
Ian Lawrence
June Gold
Brian Doyle
Iain Wood
-
2019
June Gold
Sarah Woodfin
Pat Copner
Brian Doyle
June Gold
Sarah Woodfin
Sarah Woodfin
Bruce Farquhar/Bert Droy
Alan Belton
Alan Belton
Brian Doyle
Brian Doyle
2020
Brian Doyle
Dawn Black
Brian Doyle
Brian Doyle
Brian Doyle
Mike Reid
Dawn Black
Neal Weston
Brian Doyle
Iain Wood
Russell Adams
Brian Doyle
2021
Brian Doyle
Martin Sim
Brian Doyle
Brian Doyle
Lynn Stout/Neal Weston
Graeme Griese
Martin Sim
Mark Woodfin
Alan Belton
Brian Doyle
Graeme Griese/Brian Doyle
2022
Brian Doyle
Mary Marr/Mike Reid
Brian Doyle
Brian Doyle
Iain Wood
Graeme Griese
Iain Wood
Graeme Griese
Brian Doyle
Brian Doyle
Graeme Griese
2023
Ian Lawrence
Ian Chalmers
Ian Lawrence
Ian Lawrence
Lynn Stout
Mike Reid
Mike Reid
Richard Hughes
Alan Belton
Derek Knight
Graeme Griese
The Jean Grant Trophies were introduced in 2000, Jean Grant (pictured below) was a long serving Member of the Club.
In 2013 long serving member of the Club Cathie Clark (pictured below) kindly bequeathed a donation to the Club from her estate. In order to recognise that gesture the Club purchased 3 additional trophies for new Competitions which were created in the season 2013-2014.
Grampian Eye (Formerly The Grampian Cup (Slides) pre 2009)
The Grampian Eye (Digital Images), formerly the Grampian League (Slides) Competition is competed for by all eligible Clubs in the Grampian Region. The format of this competition was changed from slide to Digital Images in 2009.
Year
Grampian Eye Club Winners
Judges Choice Top Images
(Mearns Winners)
1990
Cathie Clark
1994
Cathie Clark
1998
Gordon Haggart
2013
Mearns
Pat Copner
2014
Mearns
Pat Copner
Pictured at the Grampian Eye in 2013 the winning Mearns Team along with Judge on the day, Richard Spiers.
Forfar Shield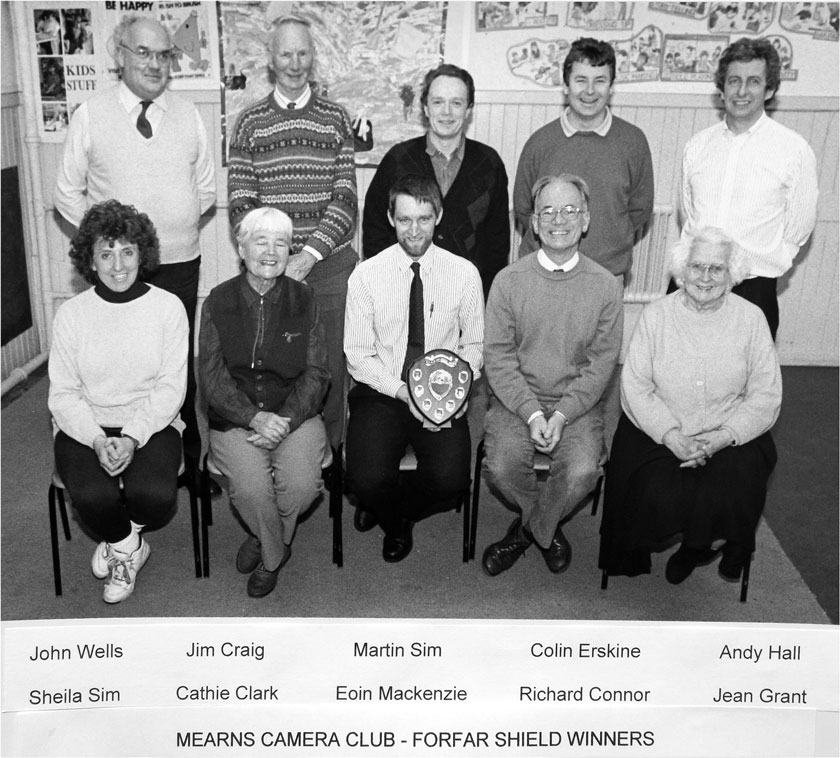 Andy Hall receives the Stuart Cardno Shield
Cathie Clark receives a medal for her achievements in the Scottish Slide Championship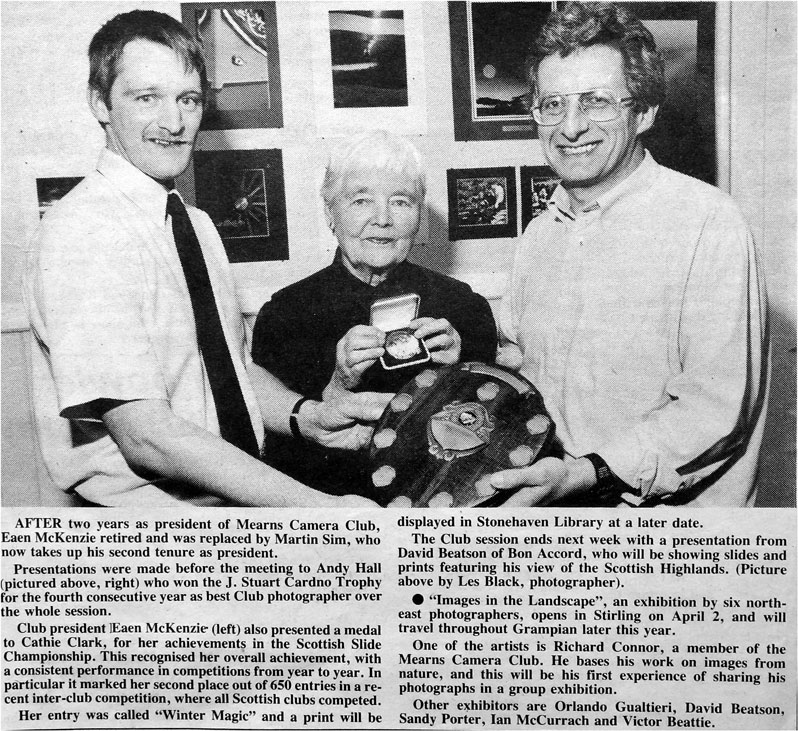 Andy Hall receives the Stuart Cardno Shield
Mearns Leader 2001. Pat Copner receives the Stuart Cardno shield.